Future Events
July 2nd 2022 Concert commemorating the sailing of the Mayflower in 1620.(deferred)
Click here for further details
November 12th 2022
Peace Concert
February 11th 2023
New Year Conceert
concerts subject to covid restrictions
News
Pictures and music from our New year concert, 2022
Choir visit to France May 2019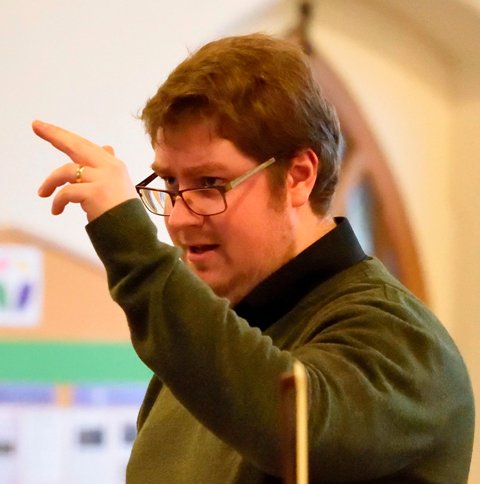 Craig Lawton took over as musical director of The Conchord Singers in 2010. A lively and enthusiastic conductor, he also currently holds positions with the Winchester Chamber Orchestra, Charity Symphony Orchestra, and Christ Church Freemantle.
Craig initially studied with Dr John Traill and later at the University of Southampton where he studied conducting with Robert Browning, and organ with Sarah Baldock. He became assistant conductor for the University Symphony Orchestra and Sinfonietta, and was the first person to be accepted on the City of Southampton Orchestra's assistant conductor scheme. Craig has continued to develop his skills with Jason Lai in London and, most recently, in Berlin with Prof. Colin Metters from the Royal Academy of Music. He has since conducted a wide repertoire, in the UK and the rest of Europe, including classical and popular music. He also remains an active organist, playing weekly services in Christ Church, and giving occasional organ recitals.
In conjunction with a busy conducting schedule, Craig makes time for charitable music projects. In 2016 he was approached to spearhead the "Oncology Choir", a choir formed of staff from the University Hospital Southampton's oncology department, to fundraise for the revolutionary new 'Centre for Cancer immunology'.
Off the podium, Craig enjoys playing percussion with local orchestras. When not rehearsing or performing, you can often find Craig in the Waterloo Arms enjoying a pint of real ale with friends.
Rosie Woods was appointed assistant director in 2017. She came to Southampton from a childhood in Devon when she gained a place at Southampton University. She gained a joint honours degree in English and Music, and also spent her undergraduate years singing and dancing where possible. Coming from a very musical family, Rosie felt the void left when she graduated and, although still singing with a Bournemouth-based big band, she started to look for a choir of which to be a part. Conchord offered just the right mixture of music styles, and immediately welcomed Rosie into the soprano section, and now after nearly 4 years, she is proud to have been asked to take up the baton as an assistant to Craig.





Chris Bluemel studied piano with Martin Penrose, and then Joan Dixon at University of York, where he gained a degree and the DipARBSM in piano. He has since taught A-Level Music classes as well as one-to-one piano and violin lessons. Over the years, he has played violin, piano and guitar in orchestras, jazz groups and theatre pit bands. He is currently the rehearsal accompanist for the Conchord Singers, and bass player for the protest folk band Seize The Day, which whom he has played at the Glastonbury Festival four times.